Pictures and Information below
---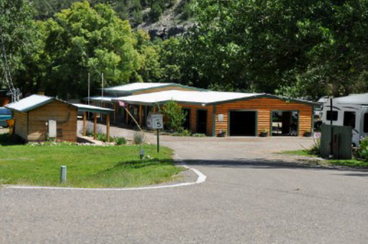 Great RV Spaces
Call toll-free to reserve your spot today!
We Welcome You to visit River Ranch RV Park
26876 Hwy 70 E
​Where families make memories
​
We are open
365 days a year
​Management on property


Full Hookups, Partial Hookups, Laundry, Recreation Room, Bathrooms & Showers.
Our spaces vary in size so we have some for large vehicles as well as for pop-ups and smaller RVs. Each space is clean, level, and graveled. Stay for extended periods of time and enjoy great discounts on RV camping spaces. We have several right on the river, but no matter which spot you pick you are sure to enjoy clean mountain air and breathtaking scenery. The Rio Ruidoso River runs through the park and we have lots of sheltering trees.
If you are looking for comfort, adventure and/or a connection to the natural beauty of New Mexico, we are the perfect spot for your vacation.

Perfect RV park in Ruidoso
New Mexico and campgrounds in Ruidoso downs
---
---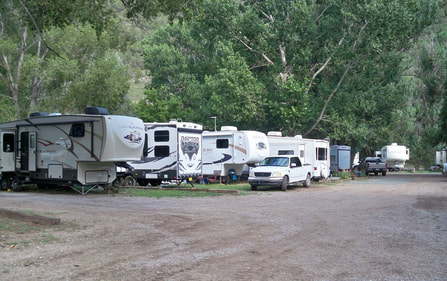 Scenic River Location
Come and explore our beautiful park on the Rio Ruidoso River. Our great natural setting offers serenity and modern facilities deliver the needed amenities to provide a great camping experience of superior value.

wonderful RV park in Ruidoso
Enjoy camping, hiking, fishing biking, and so much more. We aim to provide a truly wonderful place to gather and enjoy good times and memories that will last a lifetime.
Located 8 easy and scenic miles east of Ruidoso Downs, we are just minutes from shopping, fine dining and Ruidoso Downs Racing
Escape to River Ranch RV Park & Campground during any season to enjoy the warm days and cool nights.
---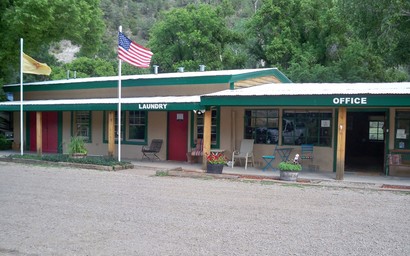 River Ranch Amenities
River Ranch RV Park is a clean and comfortable RV Park in a great location!
Enjoy the natural beauty of the Sacramento Mountains as well as outdoor activities the whole family will love at River Ranch RV Park. The plentiful onsite amenities and nearby attractions will ensure a wonderful vacation at our New Mexico campground. Go hiking along the Rio Ruidoso, relax and take a stroll through the village, filled with shopping, restaurants, ski at the newly renovated Ski Apache. We are also conveniently located near the Ruidoso Downs Race Track & Casino.
Shaded Level Spaces
Indoor Recreation Room with TV, Pool Table and Card Tables
Close to Race Track, Shopping, Golf, Fine Dining, and Casinos
Covered Pavilion
Water, Sewer, WiFi, Cable and Trash Collection Provided
River Fishing
Laundry Room
Remodeled Bathrooms With Showers
campground spaces for many sized RVs

---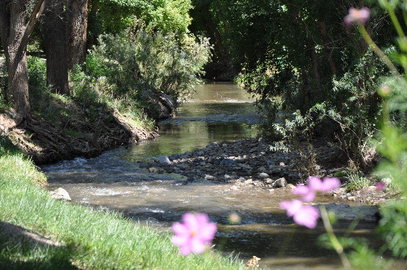 Destinations
Ruidoso Downs:
right in the middle of the destinations you'll want to see and home of the River Ranch RV Park. Ruidoso Downs is a village located just East of Ruidoso, population 2,787*. Ruidoso Downs Race Track gained notoriety as the home of the All-American Quarter House Futurity. The originator of the famous race convinced the town to change its name so the track would have a postmark.
Ruidoso:
Ruidoso, population 8,010*, lies in the rugged Sacramento Mountains of southeastern New Mexico. Ruidoso is a rapidly growing resort community, due to the region's alpine scenery, and nearby ski slopes. Ruidoso Downs racetrack and an Apache Indian owned casino are also within the area. During the 1870s and 1880s it was a busy trading center for ranchers. Taking full advantage of its spectacular setting, it is today a resort town. The village received its name from the Rio Ruidoso (Spanish for "Noisy River"), a small stream in the vicinity.
Capitan:
is located less than 20 miles north of Ruidoso. As of the 2011 census, the village had a total population of 1,485. Every school age child has heard of Smokey Bear, but they may not know that Capitan, New Mexico, is his birthplace. In the aftermath of a disastrous fire in the Capitan Mountains, a four pound black bear was found on May 19, 1950, clinging to the trunk of a burned tree. The rangers named him Smokey. Ultimately he was taken to the National Zoo in Washington, D.C. and in June, 1950, he became the living symbol of Smokey Bear. When he died in 1976 he was returned to Capitan and buried at Smokey Bear Historical Park. The visitor's center includes exhibits about forest fires, a history of the fire prevention campaign and a theater. There are also educational computer games on fire prevention.
Carrizozo:
is the county seat of Lincoln County, population of 994*. The name Carrizozo is derived from the Spanish name for reed grass, "carrizo." The native reed grass was an excellent feed for livestock on the ranches in the area prior to 1899, where small outfits ran cattle on Carrizozo flats in the upper end of the Tularosa Basin. It seems some enterprising ranch foreman added another "zo" to indicate there was abundant reed grass. That became the town's name although it wasn't platted until 1907. In 1909 Lincoln County voted to move the county seat from Lincoln to Carrizozo because of its proximity to the railroad. After a four year court battle, finally decided by the U.S. Supreme Court in 1913 in Carrizozo's favor, the move took place.
Hondo Valley:
Several small communities lie in the area known as the Hondo Valley. This map shows the area known as the Hondo Valley including the communities of Glencoe, San Patricio, Hondo, Tinnie, Picacho, Sunset, and Riverside.
Lincoln:
You can locate Lincoln west of Roswell between Socorro and Roswell along US Highway 380 on the banks of the Rio Bonito River near the Lincoln National Forest. Spanish settlers arrived here in 1849. They named their community La Placita or Bonito, referring to "the village by the pretty river". In 1869, the territorial legislature developed a new county named for President Lincoln, and La Placita changed to Lincoln and became the new county seat. Lincoln remained the county seat until 1913. 2011 census estimate has the population at 189.
Alto:
nine miles northwest of Ruidoso on NM Highway 48, was established with a post office in 1901, even though it was settled in 1882. Eugene Rhodes was a cowboy writer who taught here in 1891 and 1892. Alto was known as Eagle Creek during those years. Postmaster W. H. Walker chose its name, Alto – Spanish for high. Now it is the home of artists, as well as merchants and businesses. Alto Village, a development with lovely homes, has its own golf course. The entrance to the Ski Apache slopes on Sierra Blanca Mountain is to the west on NM Highway 532 just as you enter Alto.
Corona:
which means summit, was established in 1902 during railroad construction. The history of Corona includes a famous incident in which a deputy sheriff was shot and killed, perhaps by Billy the Kid. Billy was hiding out at a place called Great houses Tavern, which was later burned to the ground because of the shooting. Billy escaped and Governor Lew Wallace put a $500 bounty reward on his head. Corona's economic base is and was ranching and farming. Population*171.
*
population US Census 2011 estimates








.